April News
April 2017
Several of our students from Oliver Stables in Fairfax have been out and about this month competing in both Combined Tests and Starter Trials. Our riders have been strutting their stuff down centerline earning wonderful dressage scores, and clear jumping rounds. We would like to give a special shout out to Katie M. and her wonderful Arab, Prince on their first (of many) perfect 10 on her final salute.
March News
March 2017
March brought more beautiful weather and a fun experience for KBH students, Abby and Kenzie. Both riders did their first Fix-A-Test at Morven Park with VADA/NOVA. Our riders learned and lot and made wonderful progress with their tests. We look forward to showing off our new skills in the show ring.
January News
January 2017
With the beautiful and mild weather we have had this winter we have been able to get out in the arena for several wonderful rides, lessons and training sessions. KBH has already headed out to the show ring this month. McKenzie and Copper enjoyed a beautiful afternoon at Frying Pan Park for their winter show series.  Even with large classes of 8 riders or more McKenzie and Copper rode accurate and beautiful tests for a 68.+% and 2nd place finish in their Intro A test, and a 71.5% and 1st place for their Intro B test.
Katie and Wiecor were able to take a lesson with Felicitas this January. Katie enjoys her lessons, and  bringing new techniques to her students and clients. Wiecor and Katie forward to getting into the show ring later this year.
2017
August News
August 2016
This was a hot and crazy month for KBH Equestrian. Katie several students attended the VADA Culpeper Dressage Show. It was one of the hottest weekends on record. Katie and Wiecor VA received their final PSG score for Regionals.
Abby and Copper had a very successful weekend after scratching her mid-day rides due to the heat, she qualified for Regionals at Training 3 and Dressage Seat Equitation. We are excited to see them compete in North Carolina in September.
Katie M. and her gelding Prince made their debut at First Level with a second place finish, respectable scores, and great feedback from the judges. They also competed at Training 2 and Training 3 with scores up to 67+%.
July News
July 2016
We had so many fun and new things happen this month, and the month is not over yet!
Our new trailer arrived this month, a 3-horse slant load Shadow trailer.
We finished up our last week of camp this month. It was great to see so many returning faces and a few new ones too! The kids enjoyed private lessons, arts and crafts, ground schools and barn management skills each day. Camp ranges from ages 4 and up.
We also celebrated Katie and Wiecor's return to the show ring during Dressage at Lexington. Right before leaving Wiecor had the Super STAR treatment with Custom Saddle Fitter, Charlene Blundell. After some adjustments and little more flocking we were ready to set off for Lexington.
Both Wiecor and Copper enjoyed a stress free trip down to Lexington in our new trailer. This year was a bit more exciting with Tyler along for the ride. Katie and Nate were very thankful to have the Haraburda Family there to help. After arriving a bit later than expected Katie and Abby had a great late night school and were ready for the ring.
Katie and Wiecor rode the I-1 test in the FEI Test of Choice for a 67.6% and 3rd place, less than 1% off the leader. Then Saturday rode to a 73.8% and 2nd place in the I-1 Musical Freestyle, which also placed them 3rd in the FEI Musical Freestyle Challenge and earned them $200 in prize money. Sunday Katie and Wiecor continued to shine with their freestyle earning a 66.7% and 2nd place. Katie and Wiecor look forward to cleaning up parts of the freestyle.
Abby and Copper also had a successful weekend bringing in some of their top scores this season, while trying out a new class. Abby and Copper enjoyed positive feedback from the judge during their Dressage Equitation Class, along with a qualifying score for Regionals. They also scored an impressive 70% in Training 3 for a qualifying score!
This was a weekend of growth, success, and hard work!
KBH student Katie M. and her horse Prince continued to shine in the Combined Test arena at Frying Pan Park. They moved up to Beginner Novice. With a stellar dressage score and one rail over fences they earned 2nd place!
June News
June 2016
What another wonderful month for KBH Equestrian. We continue to be very busy with camps, lessons, shows, and training. We welcomed several new riding clients to KBH, we are excited to help them reach all their equestrian goals!
We also held our first of three summer camps! What a wonderful and (exhausting

week it was. We had 11 campers ranging in age from 4 to 11. They enjoyed the ins and outs of horse "ownership", along with arts and crafts and a ground school session.
KBH Equestrian and Grey Goose Farm are excited about our new 3-horse Shadow Trailer!! The wonderful people at Kingdom Trailers helped us select and order the perfect trailer. We can't wait to get it in July!
Wiecor and I enjoyed a few wonderful lessons with Felicitas von Neumann-Cosel. We look forward to more lessons and continue to improve in our training. So much to work on and learn, I'm glad we get to do it with the best!
May News
May 2016
May was an extra busy month for KBH!
KBH is a strong believer in cross training and encourages our students to keep things interesting for their equine partners. This month we traveled out to Frying Pan Park for a cross country schooling. The weather was perfect and the footing great even with all the rainy weather we have been having this month. The horses and riders had a wonderful and positive experience.
May also brought more great show experience/successes for KBH students. Abby and Copper continued to be successful at Training 2 and 3 in the PVDA Recognized show. They brought home a first and third place despite the poor footing and rainy conditions.
The rain continued with our first combined test of the season at Morning Side Farm in The Plains, VA. Katie M. with Prince brought home a 3rd place finish in the Baby Novice Division ending on her dressage score. Lili and Jaser also had a very successful outing at Beginner Novice. We look forward to more shows this season.
KBH was also excited at the opportunity to be able to purchase Katie's long time equine partner, Wiecor VA. Wiecor and Katie have been partners for 4 years and have gone for Second Level to the FEI Level. Wiecor and Katie are excited about this new adventure and chapter together. We are so VERY thankful to everyone who has helped us along the way- March Enders, Wallace Kornack, Mary Flood, Tom Kornack, Wildfire Farm, and of course my family!
April News
April 2016
Abby and Copper made their 2016 show debut with scores up to 65% in less than ideal conditions. With lots of rain, chilly temperatures and poor footing they gain their BLM Championship qualifying score at Training Level. They will be looking forward to earning their GAIG scores as well this season.
Congrats also goes out to Katie M. with Prince  and Lili with Jaser on their awesome placings in their first jumper show of the season. Way to go ladies!
March News
March 2016
Nate and Katie Haugh welcomed a beautiful baby boy, Nathaniel Tyler Haugh Jr. "Tyler" on March 16, 2016 at 11:34 pm.
2016
October News
October 2015
Katie and  Wiecor VA owned by Wallace Kornack returned to the show ring after almost 2 months to compete in the 2015 Regional Championship at Prix St. George, I-1 Freestyle, and I-1.  With little practice and saddle time, along with Katie being 4 1/2 months pregnant they headed down center line with solid scores. They placed 7th in the Freestyle and had respectable finishes in both the Prix St. George and I-1 Classes.  They look forward to competing in 2016 after baby Haugh is born.
Congrats to Abby and Copper on completing their first BLM Championship. They had respectable finishes and learned alot. They are looking forward to competing in recognized shows and championships in 2016.
September News
September 2015
Katie and Ruby V owned by Susan Lynch returned to the show ring after a few months of training and working. Rugby was very successful even though the weather (pouring rain) and ring conditions were horrible. Katie and Rugby came in second place in very competitive First Level classes all weekend. Rugby also competed this weekend with owner Susan Lynch. This was Susan's first horse show ever! They did great!
Katie was also certified as a USDF Instructor during her testing held in PA. This was a challenging testing, but a wonderful learning experience as well. Katie was able to meet other talented  young professionals in the industry.  A special thank you to the examiners, USDF, and Uphill Dressage for putting on a successful testing. Congrats to all candidates on their personal and professional success!
August News
August 2015
No show news this month, Katie and Wiecor took the month off from showing to work hard on training. Unfortunately, Wiecor VA took a slip and pulled a tendon in his front leg. Thankfully after a little rest and relaxation he was cleared to ride again. Look for Katie and Wiecor to return to the show ring in October.
July News
July 2015
Katie and Wiecor had a very successful show at Dressage at Lexington. They had a personal best at I-1 with USEF "S" judge Sarah Geikie. The wonderful feedback and comments would have have March Enders proud.  Katie and Wiecor went on to win both FEI- I-1 Freestyle classes, with the Saturday class being a FEI Freestyle Challenge Class. Katie and Wiecor's score was the third highest FEI MFS score of the weekend. They were invited to an award ceremony and won money!! Congrats to all horse and rider combos.
June News
June 2015
June 6-7, 2015 was a VADA/NOVA Recognized Show at Morven Park. Katie Haugh attended with Wiecor VA owned by Wallace Knornack and the late March Enders. They showed in a very competitive Intermediate 1 class scoring a personal best 65.9+% on Saturday for third place. Katie and Wiecor were also third on Sunday with a 60.+%. These score qualify them for the Regional Championships in October.
Abby and NPJ Copper Sand were also successful this weekend, placing 2nd in their Training 2 Level class with a 59% and a 2nd in their Training 1 Level class with a 73.+%.  This was their first 70% at a Recognized show for Training Level. Congrats to Abby and NPJ Copper Sand.
Katie and Wiecor VA look forward to riding their Intermediate 1 Freestyle at the Ride for Life show sponsored by PVDA in a few short weeks.
May News
May 2015
KBH Equestrian has been busy this month with several exciting events.  Katie Haugh rode both Wiecor VA owned by Wallace Kornack  and Ruby V owned by Susan Lynch in a Wildfire Farm Ride- A- Test to prepare for the PVDA show.  They had a great time with all the riders from Wildfire Farm and enjoyed the comments and feedback from coach and judge, Mary Flood. Katie went on to have a very successful show with both horses. Wiecor VA went on to win the PSG out of 10 riders and place 2nd in the Intermediate 1 class with a 64.842%.
KBH's student Abby rode NPJ Copper Sand at the PVDA recognized show to a new career high of 79+% . they brought home two BLUE ribbons on Saturday, and a 2nd ( 60.+%) and 6th  (64.+%) place on Sunday. Abby and Copper qualified for the BLM Championships in October.
Katie Haugh was the C Level Examiner for the Casanova- Warrenton Pony Club rating May 23, 2015. She enjoyed working with all the riders and was impressed by their turn out and knowledge. She looks forward to working them and other Pony Clubs in the future.
Katie and Wiecor VA also participated in the Lars Petersen Clinic May 24th. It was a wonderful improvement from their December clinic. Lars commented on how much stronger the pair looked together, and was happy with their recent scores at I-1. Lars continued to help Katie and Wiecor with their canter pirouettes. Both Katie and Lars were happy with the progress and effort made by Wiecor.
An extra special thanks to Wally Kornack and Mary Flood for their continued support and encouragement this month.
April News
April 2015
So many great thing happened for KBH this month. We helped our wonderful client Amy sell her talented jumper mare, Bellatrix. Bellatrix found a wonderful new home with AA rider, Amanda.  We look forward to helping Amy find her new equine partner.
We also had our first recognized and schooling shows. Katie Haugh and Wiecor VA started the season off great during the Morven Park VADA/NOVA Recognized show at PSG, with great scores- 63.816% and a 66.316%. Katie Haugh and Rugby V owned by Susan Lynch had a great first outing at first level- 63.906% at First 2 (BLM Qualifying Score), and  First 3 63.824%.
KBH's student Abby rode NPJ Copper Sand at the Everygreen Farm Schooling Show earning a 65.46% at Training 3. They scored a career high score of 73.46% at Training 2,With several 8's, 9's and even a 9.5!!!
Sharing a Dream: A Tribute to March Enders
March 26, 2015
Katie's long time friend and sponsor, March Enders passed away March 26, 2015. Here is a tribute Katie wrote in her honor.  Sharing a Dream- A tribute to March Enders
YAY for New Horses!
March, 2015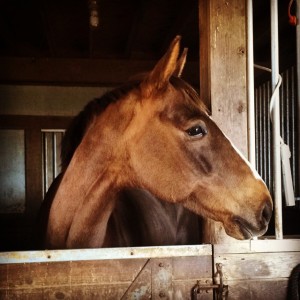 Katie Haugh and KBH Equestrian have been busy! We have helped a few of our clients find their forever partners this March. Congratulations to Valeri and Nikki Jacoutot on the purchase of 6 year old, Pop Fly. Pop Fly will be an all around mare, competing in Dressage, Eventing, Jumping, and Hunter/Jumper.  Pop Fly will be boarded and trained with Katie Haugh.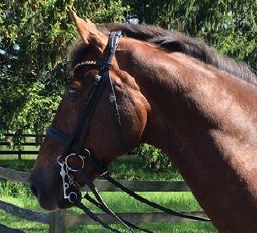 KBH also helped Wenby Bossart and her trainer, Tami Heckman of Uphill Dressage search the internet for her new dressage schoolmaster, Anthony. Anthony will help his new partner Wenby learn the ropes of the upper levels. You may also find him in the show ring with trainer, Tami Heckman. Anthony will be in training with Tami Heckman at her beautiful facility, Uphill Dressage in Pennsylvania.
Congratulations to both riders!
 
Lars Peterson Clinic
 December 7, 2014
Katie and Wiecor VA, owned by March Enders  participated in the Lars Peterson at Windswept Farm in Waterford, Virginia. This was a wonderful opportunity for Katie and Wiecor to learn from a top International rider. Lars helped Katie and Wiecor push themselves to new heights. Katie was able to learn alot and looks forward to bringing this new knowledge to her clients.

USDF Instructors Workshop
November 16, 2014
This weekend Katie was able to participate in a wonderful USDF Instructors Workshop at Uphill Dressage with Bailey Cook. It was a wonderful experience, with positive feedback and guidance throughout the weekend. Katie is looking forward to taking the Instructor test soon.
USDF Dressage Finals at the Kentucky Horse Park
November 10, 2014
We are on our way back from the national USDF Dressage Finals in Kentucky, and are very excited to announce that Katie finished in 5th place, with a score of 68.889% in 4th Level Musical Freestyle Open Championship, riding Wiecor VA, owned by March Enders.
It was an amazing experience to be competing with some of the top riders in the country, and we couldn't be happier with the way Katie and Wiecor performed.  It was a gorgeous venue and a wonderful experience; we look forward to next year's event.  Congrats to all of the riders we had the opportunity to meet and to watch- it was inspiring to see so many great competitors and their beautiful horses!
Adequan®/USDF Final Awards Standings
October 23, 2014
A special congratulations to owner March Enders for the success of her talented Hanoverian gelding, Wiecor VA in the USDF musical freestyle year end awards.
Katie Haugh and Wiecor VA placed in the top 10 for their Fourth Level Musical Freestyle out of 72 riders with a median of 71.333% (see full results). A special thank you to coach Mary Flood for her support and guidance, as well as, her thoughtful choreography. Thank you to  March Enders for her wonderful choice in music and to Cynthia Collins for blending the music perfectly.
Sinsational, AKA Sadie
July 8, 2014
We have welcomed a new member into the KBH Equestrian family!  Sinsational (or Sadie, to her friends) was born in March by Sinatra Song out of a Rosenthal mare, and was bred by Tami Heckman and Uphill Dressage.  We're very excited that, this week, she was awarded Premium Status at her Oldenburg Inspection! Tami will be expecting a full sibling for Sadie next spring.
Practice Makes Perfect??
March 25, 2014
We have all heard the saying, "practice makes perfect," but have you ever thought about the importance of the equipment you use during that practice?

Getting Started!
February 17, 2014
Alright everyone, I can't believe I am doing this, but I am officially starting my BLOG!! I have been stressing over this moment for the last few months, yes, I do mean months. I honestly had no clue how to start, what to say, or how often to write, so please excuse me as I learn the "blogging etiquette". I hope to spend this year sharing my personal journey to the FEI Levels- the highs and the lows inside the arena and out, as I juggle the pressure and work load of being a- wife, full time third grade teacher, and equestrian.